Indian artistic wooden handicrafts located in northern India's Ancient city 'Jodhpur'. We offer authentic one-of-a kind pieces from India's exotic past & richly varied present, inspect our factory for extensive inventory of Wooden furniture, carved furniture, contemporary furniture, Painted furniture, Handicrafts, Colonial furniture, tribal and primitive art, exceptional antiquities arts & crafts.

We have Ready stock of 10-12 containers at any time.

Factory-1 : Comprising works for Antique & antique Reproduction, having total area of 80,000 sq.feet
Factory-2 : Producing New furniture, having total area of 68,000 sq.feet
We have in house product design & development facilities at our city office.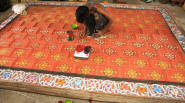 Both units has work force of 100 artisans involved in various aspect of production for generations these local artisans have created amazing traditional hand carved furniture using India's indigenous woods.
We are constantly developing new designs using combination of different materials including leather, metals (brass, white metal, copper & nickel), ceramics, glass, textiles, marble, granite and sandstone as per clients designs & specifications viz., TV cabinets, bookshelves, Dinning tables, armories, doors, beds, console these products are made to excel to twin purpose decorative as well as functional.
We offer exclusive and exquisite range of wooden products of arts and crafts which are unique blend of Indian traditional and contemporary reflections. Our premium wood transformed uncanny artifacts under the connoisseurship of experts is astounding visit our portal gallery for grandeur exposition of our quality products.
We are looking for selected distributor (area/region/country wise) to strengthen our distributor network all over the world and we can offer very good prices to our distributors depending on the order quantity. we assure you that our prices are most competitive and reasonable.
We have carved a niche for ourselves in international market having symbiotic bond of trust with our customers which comprises wholesalers, importers, antique houses, galleries, interior decorators and designers. We strive hard to gain confidence of our esteemed clients by providing them total customer satisfaction, thus making long term relationship; that's our motto.

Production & Quality Control :

The wood is chemically treated in a treatment plant & seasoned in seasoning kilns
Chemical Treatment :
As timber generally is easily susceptible to borer, fungi and insect attacks within short period of its felling. To avoid this and make timber more durable it has to be chemically treated. Chemicals are first mixed in a proportion as prescribed by standards in motorized mixer before poring in to storage tank. Planks are loaded in to trolley and trolley is pushed in to the vessel. Vacuum is created to ensure all air is removed surrounding wood and cells of wood opened to ensure better impregnation of chemical. Pressurization of chemical in vessel ensures 100% impregnation. Final vacuum ensures excess chemical taken out of surrounding woods thus helps in reducing seasoning period.
Wood Seasoning :
Most species of freshly felled timber contain 100% or more moisture in it. For retention of shape and size of manufactured article and make quality product, timber should be seasoned and the moisture contents to be brought down to level in equilibrium with the surrounding atmosphere (normally 6% to 8%). Seasoning is done in Scientific way to ensure perfect seasoning under controlled. Fans are of light weight having variable pitch, dynamically balanced and reversible and that gives equal air flow in both sides of the wood stack ensures equal drying of wood. The drying of wood takes place by the application of temperature humidity cycle. Drying process is checked and monitored time to time by the use of moisture meter handled by qualified operators.
About Wood : we are aware pertaining environmental issues, all species of wood is procured from managed plantations as per norms laid by Forest Stewardship Council.
Teak wood 'Sagwan'
Native to India, Teak wood (tectona grandis) has long been used for indoor and outdoor furniture due to its superior strength and resistance to weather, moisture and insects. It has warm golden brown color and straight grain, is heavy and dense, and will perform well for many years to come. Most of our old pieces are made from teak, which is becoming a scarce resourse, adding to the value of these pieces. Replica pieces are made using old MP teak or Burma Teak.

Indian rosewood 'Shisham' or 'Sheesham'
Indian rosewood (dalbergia sissoo and dalbergia latifolia), an Indian hardwood also called sheesham in local dialect, Is best suited for New Furniture. It is dense with a uniform medium coarse grain and produces a beautiful finished product with a warm golden, slightly purple hue. To prevent warping and cracking it is kiln dried, simulating the natural ageing process.
Finishing & Polishing : we have best of finishing equipment and material for polishing and finishing, our polishing equipment are from KREMLIN France, our eco-friendly polishing material are safe for mankind.
During polishing process the wood pores are sealed by either a Nitro-cellulose sealer to prevent the wood from absorbing or releasing moisture. Our manufacturing workshops are equipped with all modern machinery, equipments and facilities.
We emphasis on total quality control at every stage which begins from the selection of quality wood and continues up to packaging etc quality is given due consideration at every stage by experienced supervisors.
Packing :
Last but not least stage of merchandise dispatch we consider it most important. Each & every piece is carefully packed with corrugated paper + bubble sheets 80gsm, corners cushioned with high density PU corners, glass is screened with thermo Cole sheets, furniture edges are protected by elongated thick strips of paper pulp, eventually each piece is wrapped with plastic film & strapped with nylon strip, we also take up custom box packaging as specified by the customer.
Container stuffing :
Container is stuffed under the strict supervision, so that merchandise is kept in a systematic manner, which results in zero damage during transit.
:: Member of ::